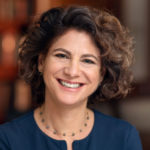 Dean of the Faculty of Arts and Sciences | Vincent J. Scully Professor of Philosophy | Professor of Psychology and Cognitive Science
at
Yale University
Tamar Szabó Gendler is the Dean of the Faculty of Arts and Sciences at Yale University, and the Vincent J. Scully Professor of Philosophy, and Professor of Psychology and Cognitive Science.
Professor Gendler's work in the philosophy of psychology, epistemology, and metaphysics has earned her many fellowships from such foundations such as the Andrew W. Mellon Foundation and the National Science Foundation. Her 2008 essay entitled "Alief and Belief" was selected by the Philosopher's Annual as one of the best articles published in Philosophy that year.
In 2010, Gendler became the first woman to Chair the Department of Philosophy at Yale in its 200-year history, and after an interval as Deputy Provost of Humanities and Initiatives, she has been serving as Yale's inaugural Dean of the Faculty of Arts and Sciences since her appointment in 2014. She has served on numerous boards and steering committees, including for the National Academies of Science, Engineering and Medicine; the National Endowment for the Humanities; the Smithsonian Institution; the Kavli Foundation; the Tata Corporation; and numerous colleges and universities across the United States and internationally.
View Website